Help [?] Menu
About
This command opens the Information window of the DHD Operation Server (DHDOS). Therein the version of the DHDOS and its publication date is shown. Moreover you can find DHD support contact information.
License Administration
Select the License Administration command in the Help Menu ?, to open the Software Licensing window.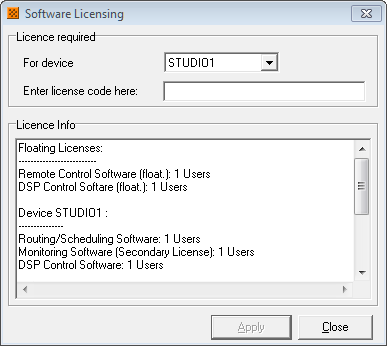 In the For device list, select the device you want to add a license to.
Enter the license code in the Enter license code here box. You receive the license code from DHD. This code is created depending on your individual device (serial number), the used software and may be it is also based on further options. Therefore, the license code can not be used for an other device. The Apply button gets selectable when you have entered the code completely. Now, confirm your settings with OK or abort the process with Cancel.
The successfully transfer of the license is acknowledged: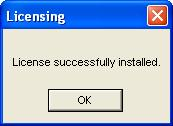 If it was not possible to transfer the license into the device, the following message is shown: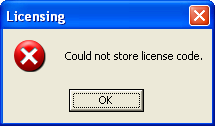 Check the connection to the device and whether its the right device or not. May be the connection is established in demo mode, that does not support this procedure.
The following is shown if it is possible to transfer the license into the device, but it does not fit: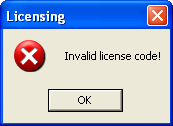 Please check that the entered license suits to the device if you have received several license codes from DHD. Verify your entry depending on the correct notation.
Note
Please note that the entry of the code is case sensitive. Enter the code exactly like you have received it from DHD.
In the Licence Info box all activated license options for this device are shown. Check the content of this text box after entering a license code to determine whether the license code was stored correctly or not.