Flexible Keys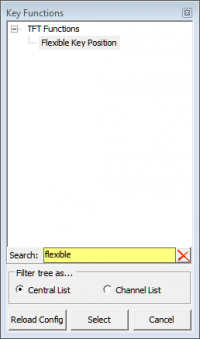 Flexible Keys are key functions with functionalities depending on the currently active TFT view. Flexible Keys are physical keys controlling buttons on TFT views. When another TFT view is active, the flexible key function changes depending on what you assigned.
You can assign up to 20 flexible keys.
To use flexible keys, follow these steps:
In

<Device>/<Mixer>/Console

view you can assign the key function

Flexible Key Position

to any physical key. Assign a display group (

To Group

) and a

Key Position

to your key. (See

Key configuraton

for details on key function assignment)

Note
When using multiple TFTs and views, you have to manage them via Display Groups. See Switching between views for more information.

In <Device>/TFT Views select the view where you want to assign the flexible key to a TFT button. On the right hand side, select Flexible Keys tab. In the left column you find the flexible key positions. Find your previously chosen Flexible Key Position. In the TFT Button column select the TFT Button you want to assign to your Flexible Key. Double click to change the selected TFT Button.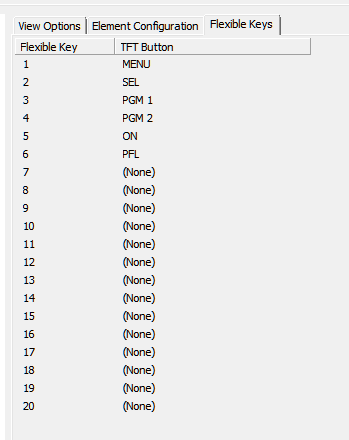 To de-assign a Flexible Key Position, select (None) in the drop-down menu.
Repeat step 2 for every TFT view where you want to use your Flexible Key.
Note
Flexible Keys and button colors
Whenever you use Flexible Keys on hardware keys, the color of the assigned TFT Key will be forwarded to the hardware key if the key supports it. If the key color is not supported, on color will always be yellow, off color will be not illuminated.
Supported colors are:

52/SX, small Keys on 52/RX and small Keys on 52/MX: yellow (color scheme entry #1) and red (color scheme entry #2).

52/RX and 52/MX big Keys: yellow (color scheme entry #1), red (color scheme entry #2) and green (color scheme entry #4).
Those color codes can not be changed. See color scheme for more information.
Example
You can use Flexible Keys in combination with Channel Start. If the view with the affected fader is not visible, the button does not have this function. Or for command or patching views: Button is disabled or has another function, if TFT view is not visible.