Additional Modules
Note
Only for 52/RM4200D and 52/XR
In Toolbox5, you can configure additional modules that are not directly part of an 52/MX or RM4200D console.
To do this, in the project tree, select <Device>/<Mixer>/Additional Modules. On the Modules tab, you can drag modules from the Available Modules area to the Configured Modules area. You can use up to 16 additional modules per DSP frame.
On the Keys tab, in the Configured Modules area, select the module which you want to configure. In the Other Options area, you can find the following boxes:
Module: Shows the name of the module. This value can not be changed.

Access Group: Select here to which access group the module should belong. All modules of the same access group cooperate for certain functions, for example when creating parameters for a fader channel on the central console. There are four Access Groups.

Module ID: Shows the unique identification number of the module in the system.

Description: In this box, you can type a name or description for the module. This name overwrites the ID number for better recognition.

Unassigned Talkback Connections: In this area, the available talkback sources and destinations that have not been assigned yet are shown. You can drag them directly to the desired keys.
For configuring the keys, follow the steps described in Key Configuration. The available key colors of the Additional Modules can be different from the key colors mentioned in the Key Configuration section.
To assign the access rights for the separate keys on the Authorisation tab, please read the section Authorisation - Limiting Access to Keys.
Available Modules
The following additional modules are available for an 52/MX device:
Switching Panel RM420-078

Switching Panel RM420-079

Talkback Panel RM420-027
For an RM4200D device, the following additional modules are available:
Studio Panel RM420-011

Switching Panel RM420-079

TFT Display 52-4015

TFT Display 52-4017
Talkback Panel RM420-027
The Talkback Panel RM420-027 provides some special functions that are explained in this section.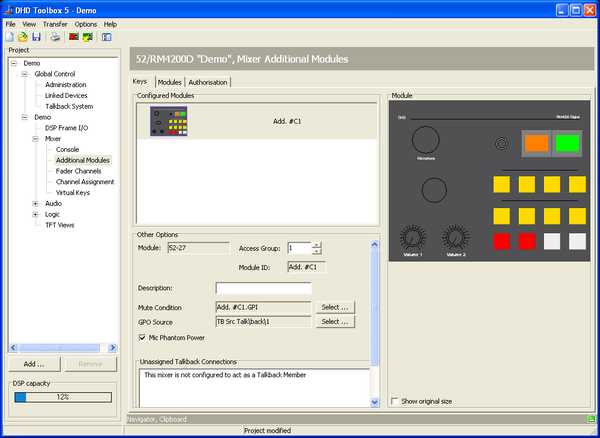 Mute Condition: Click Select to assign a logic source that mutes the loudspeaker of this module.
GPO Source: The module provides a general purpose output (GPO). Click Select to assign a logic source that switches this GPO on and off. Please see the picture below to find out how to wire the GPO.
Mic Phantom Power: Activate this function to supply phantom power if a electret microphone is connected to the module.